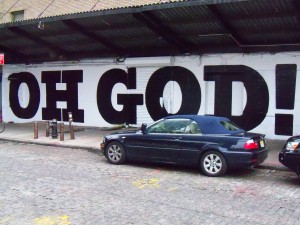 On behalf of all Real New Yorkers, I have a number of wishes for 2012, now, at this point, as we slide to the conclusion of another difficult year.  Here they are:
May our political leaders cut the crap, shake hands, agree to disagree on some points, and work to solve our myriad economic, social and medical problems, with compromise, integrity and earnest effort
May these same leaders see the light and work towards policies that promote energy independence, which is the sure way to deflate the power of the world's bad actors and simultaneously grow jobs and, thus, our economy
May the metaphorical light bulb go on in homes and in state rooms, and illuminate the fact that a bleeding-edge education is the way for our nation to stay strong enough to help save the great idea that is "democracy" — and to drive the success of the world economy.  Shut the g-d X-boxes off and study, fer crissakes!
May U.S. leaders pause their posturing long enough to admit that science has validity and that facts trump fiction
May our more religious citizens finally equate the teachings of their religions with actions in daily life and take this knowledge into their interpersonal relationships — and into voting booth come November, to vote for some semblance of compassion for those less fortunate.  I have never read scripture that states: "every man for himself."
May the world's journalists track News Corp evil all the way up to Rupert, and take Faux News and the entire garbage spewing empire down, once and for all
May we all just take it down a notch and be friends — please?  
HAPPY NEW YEAR, EVERYONE!!!