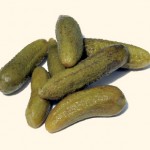 This is a picture of pickles.  Big deal, right?  Well, Real New Yorkers are bemused by the movement to "artisanal" versions of products once considered prosaic, a basic part of NYC life.  Like a pickle.  Or gin.  Or a loaf of bread.  Or pastrami.  Or herring in cream sauce.
Quality versions of such comestibles are now called "Old World" by today's food elites.  We are reminded of the old Seinfeld defense of his man-purse: "It's European…!!!"
In New York City, back in the day, you went to the local food store, or deli, and got pickles. They came in a big barrel.  You picked them out, sours or half-sours.  The merchant put them in a jar.  If you wanted bread, you went to the bakery.  The baker sold you a loaf of bread, white, rye, pumpernickel, corn bread, challah.  The sales person asked if you wanted it sliced or not.
Herring?  You went to the appetizing store.  There, you selected: in cream sauce, roll mops, schmaltz herring, matjes.
Over the decades, the European immigrants raced to assimilate.  Old World recipes were thrown out, replaced by recipes for brisket that called for Harvey's Bristol Cream.  No, seriously.  Local food purveyors gave way to national chains and regional brands, to the point where packaged balloon breads ruled and a good corned rye bread with seeds became impossible to find.
And, now, the pendulum swings again.  Brooklyn's Boerum and Cobble Hill sections boast artisinal pickle makers. Herring boutiques.  Montreal-style Jewish delis.  Old-time bread bakeries and cheese purveyors.  Only the prices have changed.  A pound of fancy pants craft cheese is roughly twice the price of a decent ribeye.
Recession?  What recession?  Business is booming at Williamsburg Smorgasburg market and all the little stores.  And the trend is being pushed out from Brooklyn, as that borough becomes, in essence, a national brand.
Call it tasty.  Call it Old World.  Call it what you will.  But remember this: "real" European style means FRUGAL.