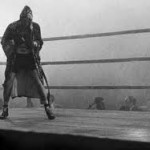 One percenters gone wild.
That's what happened recently at the New York Athletic Club.  You know, that Central Park South bastion of white shoe, keep-the-pesky-Jews-out, Ivy League douchery.
A fight broke out.  Well, not exactly a fight.  A wild melee, straight out of Gangs of New York, replete with head butting, broken bottles and broken noses, women thrown to the floor, 20-somethings throwing haymakers at 40-somethings, the bartender trying to stop the fight and getting flattened and frantic calls to 9-1-1.
Check out this classic account of the donnybrook here:
http://wallstreetjackass.typepad.com/raptureready/2012/04/ny-athletic-club-fight-.html 
and here
http://cityroom.blogs.nytimes.com/2012/04/24/brawl-sheds-an-unwelcome-light-on-a-tony-athletic-club/?ref=nyregion 
Best of all was the letter to members sent by one S. Colin Neill, the club president, who warned recipients about showcasing photos and written accounts on social networking sites and advising all — in effect — "what happens at NYAC, stays at NYAC."
Well, jeepers, when the cops are called and arrests are made, then it becomes public and all bets are off.  No doubt some will point to their arriviste members and/or "guests."  Others will speculate as to the ethnicity of those involved (hmmm, Muffy, it says here that those involved included a Doran, an O'Grady and a Drowica — from Long Island's North Shore, reports The New York Times).  Were these cretins financial types?  From old money?  Scions of baby furniture magnates?  Hopefully we'll soon find out.
And who were the lovely damsels allegedly at the center of the festivities?
In this time of Citizens United, "corporations-as-people" and the worst looking Lorenz curve in 60 years, all we Real New Yorkers  can say is:
"Stay classy, one-percenters!"