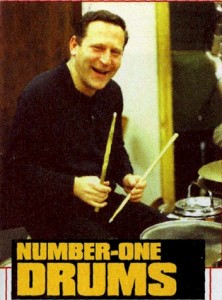 So many musical greats have passed in recent months and, now today, Doc Watson, at 89.
All big names, all breakthrough artists.  Disco Donna.  Levon.  Duck Dunn.  Watson.  And more.
For Real New Yorkers, however, I present this sad news:
Buddy Saltzman is dead.
I didn't know until last Saturday night.  Marshall Crenshaw, in his Bottomless Pit radio show on WFUV-FM, spread the word.  Full disclosure: when I heard the name — Buddy Who?  Saltzman? — it did not ring a bell.  Crenshaw explained.
And as he did, I realized how greatly Buddy had touched my life, informed my musical tastes, was an architect of much of my life's interior soundtrack.
Buddy was New York and, specifically, Brill Building New York — that beehive of musical industry, right on Broadway.  He was a superlative drummer who was constantly in-demand and played in literally thousands of sessions from the 50s to the 70s.  He worked with Real New Yorkers such as Neil Diamond, Neil Sedaka, Laura Nyro, Leiber & Stoller, Goffin & King, Paul Simon — as well as with Phil Spector, Burt Bacharach, Dionne Warwick, the Shangra-Las, Bobby Darin, Dylan, the Coasters, the Shirelles, the Cyrkle, Connie Francis, the Monkees, Lou Christie, the Archies, Leslie Gore, Peter, Paul and Mary, the Cowsills, Little Eva…even BARBRA!…even FRANK!
But perhaps the sound that best exemplifies Buddy's muscular, take-charge style was his drumming for The Four Seasons.  Play "Dawn (Go Away)."  Go ahead, I'll wait. Click on the link here http://www.youtube.com/watch?v=bE40KM4SGAY.
He was a master of power and precision, with the around-the-kit rolls and the subtle ghost notes and right-on accents and those kick-ass triplets at the fade out of "Dawn."
Think of "The Locomotion"…"I'm A Believer"…"Rag Doll"…"Lightnin' Strikes" — even "The Sounds of Silence"…all number-one tunes.
All Buddy Saltzman, on the drums.  All part of our lives, made-in-New York.  By a Real New Yorker.
And I'm thinking: this is a guy who worked two, three, four sessions a day, for five, six days a week, with the best of the best.  And he dies.  And no big obits.  No big noise.  Crickets.
But the thing is, he mattered. 
A lot.  He pushed the orbit of the earth, if only just a little bit.  Because whether we knew it or not, this professional musician touched us all, and lifted our lives.
On the website for Artie Kornfeld (one of the Woodstock Festival masterminds), Saltzman is quoted: "All I ever wanted to do is play drums and provide for my family."
You did a bit more than that, Mr. Saltzman.  You made some of the best and enduring music of the 20th Century, and you influenced generations of musicians.
RIP, Buddy Saltzman, a Real New Yorker.
Cue the music: http://www.youtube.com/watch?v=Yi0CqIeLjkQ