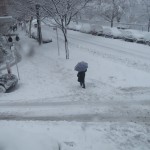 With snow falling on The Real New Yorkers today, October 29th, it's time for our "Watch out where the huskies go, and don't you eat that yellow snow" (RIP Frank Zappa) top 10 list of NYC/snow rememberances:
#10:  With the real risk of being late to kindergarten imminent, my baby sister crawling and shrieking in the back seat, Mom's attempts to "rock" our aging Pontiac Super Chief out of snowdrift proves futile — YAAAH!  NO SCHOOL!!!!
#9:   As a blizzard approaches NYC, local parents huddle in the situation room (aka, my kitchen), to discuss the feasibility of one of them leading group of tykes to school.  Conclusion: treacherous footing; "stay home, kids"  — YAAAH!  NO SCHOOL!!!!
#8:  While attempting to play ice hockey on snowy, choppy Van Cortlandt Park lake, our entire team of 4th graders slips and falls during 4 on 1 breakaway.
#7:  A Hostess Bakery truck is stranded on icy hill during blinding blizzard; goods are ransacked by a mysterious horde of rowdy 10 year olds (us), the first known example of a pre-cell phone flash mob.
#6:  Seconds after Roger Grimsby announces advancing winter nor'easter, the entire stock of milk is gone from neighborhood A&P.
#5:  Jimmy Hoppins and Jim Jim McGlynn airplane their sleds down 190th Street, veer onto University Avenue, jump up, and leap onto the back of a moving #38 bus.  We score it: 10 – 10 – 10 – 10 – 9.7 (the latter because Larry says Jimmy's left foot was hanging off the bus' bumper, thus ruining a perfect score).
#4:  Myron and Tony drop acid during intersession, at the start of a big blizzard in pre-cell phone era and are not seen or heard from in three days.  They later turn up in Telstar Diner, eating cheeseburger deluxes, as if nothing happened.
#3:  Days before X-Mas, a drunken reveler on the edge of icy, el platform slips, falls off the platform onto tracks, shakes head like Wiley Coyote after getting hit with Acme anvil, and hops back onto the platform, mere seconds ahead of incoming #4 train — a Christmas Miracle if ever there was one.
#2:  During winter of 2005-6, which will rack up something like 17 consecutive snow storms, Park Slope awakes to find streets, trees, cars and benches encased in a perfect, crystalline sheath of ice.
#1:  With 17″ on the ground and snow showing no signs of abatement, our family dog, Genghis, leaps out of our building and into a drift, momentarily disappearing from sight before vaulting up and pirouetting two feet off the ground to try and eat snowflakes on their way down.  A perfect crystal lands on the little "snowflake" of white that colors the tip of his black nose.  RIP Genghis, charter member and president, Board of Directors, dog Hall of Fame.