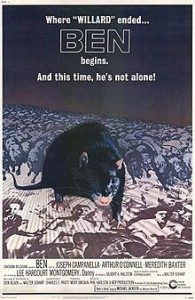 Oh, this is so perfect — the head of the MTA opposes a bill that would ban eating on the subways.  Here's the link to the article in today's New York Times: http://www.nytimes.com/2012/02/14/nyregion/mta-chief-opposes-ban-on-eating-in-the-subways.html?hp 
In case you hadn't noticed, rats are running amok in the subways.  A Straphanger's Report survey finds that riders have spotted rats in 1-out-of-every-10 subway stations.  Time-starved riders eat more on the subways.  Chicken-starved rats eat the leftovers. 
It's a perfect storm of rodent renewal.  Think "Born Free," Real New Yorkers style. 
The MTA Commish, Joe Llota, was once known as the "rat czar," when he worked as Deputy Mayor under the "czar czar," Rudy G.  Llota rolled up his sleeves and eradicated a severe rodent infestation problem.  But that was then and this is now.
With a bill in Albany that would ban all food eating on the subways, punishable by a $250 fine, Llota says, hey, that's discriminatory against minorities and little kids eating their meager meals on the way to school. 
Hold the strychnine — maybe he's onto something.  Maybe the explosion of the rat population in NYC subways is actually a defining, teachable moment.  Think of the possibilities:
Name That Rat: Create a citywide contest to name your station's favorite rat.  This could help promote spelling accuracy, while teaching schoolchildren how to fill out an entry form — a skill that will help them all through life;
Stupid Rat Tricks: Straphangers waiting interminably for their train could teach their platform rats how to roll Snapple bottles, sit up and beg for BBQ chips, jump across the third rail — Letterman could send a camera down to tape the fun.  This teaches basic behavioral psychology, as it fosters a love of animals;
Rat Math: To keep school test scores up, kids could learn to count the fast multiplying rats in their station.  No calculators allowed, children!
Comfort Rats: Sweet-tempered rats could be specially trained to comfort the sick and poor huddled in our subway system.  Plump, cuddly ones could be petted, and nestle nicely next to the less fortunate.  Hey, they do it with dogs in hospitals, right? Who says we don't take care of our own?
Savory Pies: do I need to spell it out? This is Home Ec — NYC-style!
So, yeah — right on, Joe Llota.  Why ban eating on the subways, which helps feed our rat friends?  But, we'd take his approach one step further.  Encourage the rat population to grow.  Make the last car of every train a "dining car" where people can eat their blueberry muffins, wings, chips, lo mein and more with reckless abandon.  And don't throw out your leftovers — no, just drop it on the floor or out the window onto the tracks. 
Those little fellers gotta eat, after all.  They were born free.  They have a right to live free.
Right, Commissioner Llota?